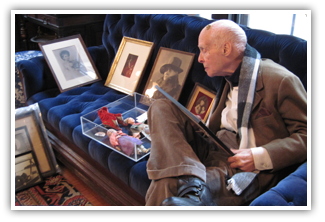 The permanent collection at Forbes House Museum is comprised of three important components: Chinese export porcelain, silver, paintings and furniture, Civil War and President Lincoln memorabilia, and Forbes family holdings, including American and European painting, furniture and artifacts.
Chinese Export Art
Captain Forbes and his family of China trade merchants returned from their voyages to Canton, China, with beautiful examples of export works of art. The collection includes examples of patterns common to the year, including the Blue and White (Canton), Rose Medallion, Celadon, and Orange Fitzhugh.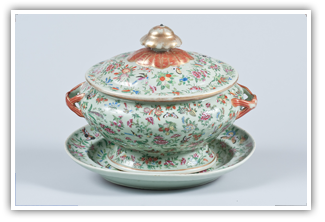 In the 1870's pantry, visitors can see this 19th century Celedon export porcelain soup tureen, glazed by hand with images of flowers, birds, and butterflies.
The collection includes impressive and often rare examples of tableware on which hand painted images of nature appear, including dragons, monkeys, horses, birds, insects, flowers and people at tea or engaged in other domestic activities. Some items were made especially for the American market, including tea cups adorned with an American eagle. Of particular interest, is the Forbes Election Bowl, an elegant and luminous 19th century Chinese porcelain object, decorated with bands of Scottish thistle and ivy, darning two Forbes family crests and two depictions of Scottish castles.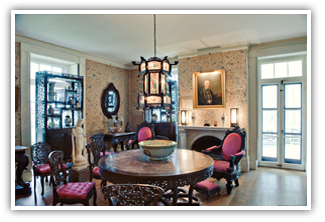 The Election Bowl is resting on a table of Cantonese marble and hand-carved Rosewood, brought back from China in the mid- 1800's by Captain Forbes. The table and matching chairs are held together with a peg system (there are no nails or glue holding the pieces together) for easy assembly and disassembly – a practical feature for furniture transported by boat. At center, a lantern, depicting peacocks, fruit and finely dressed ancestors is perched above the table. In Chinese culture, one honors his/her ancestors by living a good and healthy life, the peacock being the symbol of good and/or healthy living. There is a portrait of Houqua (Wu Ping-chien) (1769 – 1843), painted by the Chinese artist, Lamqua (Kwan Kiu-cheong) (1801 – 1860), whose instructor was the English born artist, George Chinnery (1774 – 1852). Visitors can also see Guan Yin, the Buddhist Goddess of Mercy and a bronze Buddha, along with hand painted silk wall paper, recreated from remnants found beneath the door moldings.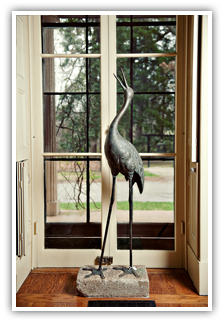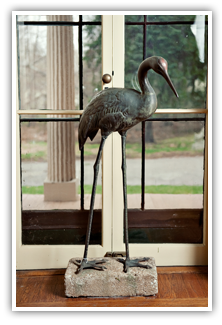 The collection at Forbes House Museum includes export silver tea pots and a number of bronze sculptures of animals, including this pair of cranes, a symbol of longevity in Chinese culture, standing over four feet tall with a cement base.
The Civil War and President Lincoln Collection
Captain Robert Bennet Forbes and his brother, John Murray Forbes, were supporters of the Union cause during the Civil War. Under the Captain's order or supervision, several vessels were built for service during the war, including the gunboats, Sagamore, Huron, Chocorua, and Kineo. The brothers were founding members of the Union Club in Boston, and were supporters of the African American infantry, the 54th Regiment Massachusetts Volunteer Infantry Company A.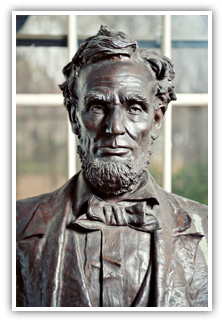 It is no surprise, therefore, that the Captain's granddaughter, Mary Bowditch Forbes (1878 – 1962), began collecting Civil War and President Lincoln memorabilia. In 1909, she acquired a commemorative penny, released by the U. S. Treasury, in honor of the one hundred year anniversary of our 16th president's birth.
Similarly, other commemorative items were made available to collectors, including this bronze bust of Lincoln (part of the museum's permanent collection) which was manufactured in 1909 by the Gorham Manufacturing Company in Providence, Rhode Island.
The Civil War and President Lincoln Collection includes a series of prints by Currier & Ives, depicting important battles of Antietam, Gettysburg and Cold Harbor, and an oil painting of the battle of the submarines, the Merrimac and Monitor. The Museum owns a Union cavalry officer's sword and a Civil War era ensign flag featuring only thirteen stars. Ms. Forbes acquired memorabilia from the Wide Awake Party and the Grand Army of the Republic (GAR). The collection includes a campaign banner from 1860, which was used at a rally in Dorchester, Massachusetts, for then candidate Lincoln (Abe Lincoln visited and stayed overnight at a house not far from the FHM). Over a span of forty years, Mary Bowditch Forbes filled seven large scrapbooks with newspaper clippings and photographs, which are regularly put on display in the Museum's Lincoln Room.
In 1923, Ms. Bowditch Forbes had a replica of Lincoln's birthplace built on the grounds of the estate, and began the annual tradition of celebrating Lincoln Day, in which veterans, political leaders, celebrities (on occasion), and local citizens assembled to hear speeches. Today, visitors can still see the Lincoln Cabin during their visit to FHM, and they are welcome to join the annual Lincoln Day festivities held annually in February.
The Forbes Family Collection
The museum's collection includes objects, paintings, and furniture owned by four generations of the Forbes family. In the library of James Murray Forbes (1845 – 1937), the Captain's son, visitors can view two oil paintings by Milton-born artist, Thomas Hewes Hinckley (1813 – 1896), an internationally known painter of domestic animals and wildlife. Hinckley, who was also a sailor and merchant, set up an artist's studio in Milton in 1833, the same year that the Forbes House was built. He received a commission from James Murray Forbes in 1884 to paint a portrait of Captain Forbes' favorite dog, Phil, which hangs in the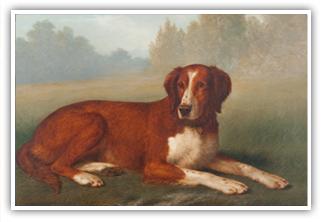 Library today. Also in the Library, The Gilly's Charge, by Scottish painter, William Morris, depicts hunting dogs and a young man (a gilly) set amidst the misty Scottish Highlands. Visitors can see an oil painting portrait of Robert Bennet Forbes by Chinese artist, Lamqua, and portraits of other family members including the Captain's wife, Rose Green Smith Forbes, and his grandmother, Loyalist, Dorothy Murray. Paintings by other European artists include two Canton scenes by Dutch artist, Wynkford Allan Gay, and four maritime works by English painter, Robert Salmon.
Portrait of Phil, by Thomas Hewes Hinckley, oil on canvas, 1884 shown above.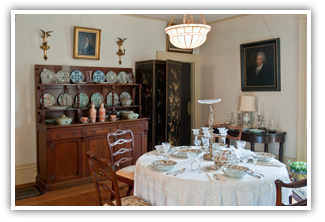 The Dining Room at FHM features mahogany pierced ladder-back Chippendale style chairs and a Hudson River Valley sideboard, containing export porcelain patterns, including Rose Medallion, Celadon, and Orange Fitzhugh. On the wall at left, a portrait of Ralph Bennet Forbes, the Captain's father, and at right, John Murray, the Captain's uncle, a diplomat and U. S. ambassador. In the background, a 19th century Chinese lacquered screen, one of many at FHM, can be seen.
Birdseye Maple furniture occupies the two bedrooms on the Museum's second floor; a reclining lounge chair, one of many brought from China by Captain Forbes, is smartly displayed in one of the bedrooms.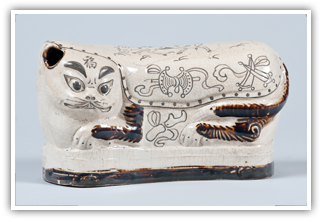 18th Century ceramic Chinese pillow in the shape of a cat, shown to the right, can be seen in the north bedroom.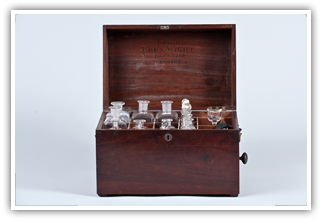 Medicine Chest, shown below to the left, belonging to Captain Robert Bennet Forbes; in the 19th century, the captain of a ship was also the ship's doctor.
In 1847, a sloop of war, The Jamestown, pictured below left, was loaded with food and other provisions by citizens of Boston in a humanitarian mission to Ireland during the Great Famine. Captain Forbes, the only civilian captain to ever command a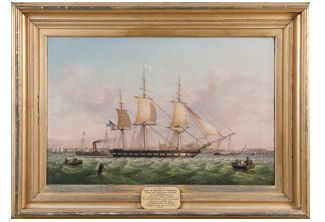 military ship (The Jamestown was a U. S. Navy ship), led the voyage to County Cork, keeping a daily diary of his journey across the Atlantic Ocean. In a gesture of gratitude, the wheel of the ship was given to the Captain, and is on display in the Museum, along with his sextant, ship models, and other nautical artifacts.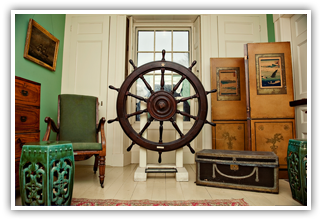 View of wheel of the ship, The Jamestown, along with trunk, at right, used by cabin boy, Robert Bennet Forbes, in 1817 during his first two-year journey to Canton, China, at age thirteen (shown right).

.