Presenting our New Exhibit:
Massachusetts Help To Ireland
During The Great Famine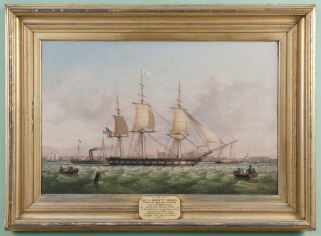 Hearing the stories of despair in Ireland in 1846-47, brothers Captain Robert Bennet Forbes and John Murray Forbes were stirred into action. With help from local dignitaries, area residents and the United States Government, they amassed 800 tons of provisions, broke a sailing record, and saved thousands of lives.
Come see the artifacts and historic accounts from their incredible philanthropic mission during the height of the Great Potato Famine.
Exhibit runs January-May
Special opening reception:
Saturday, January 27th, 4-6pm
$10/person
Featuring Irish tea, baked goods provided by Greenhills Bakery of Dorchester,
and live music by local musician Brian Queally

Download the flyer for this event in PDF format