Call or email our gift shop for personal service: (617)696-1815, info@forbeshousemuseum.org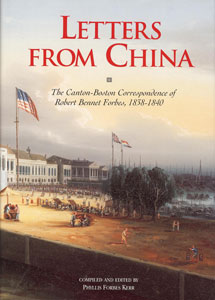 Letters from China: The Canton—Boston Correspondence of Robert Bennet Forbes, 1838 – 1840
Complied and edited by Phyllis Forbes Kerr
Mystic Seaport Museum, Inc., Mystic, CT, 1996
Hardcover, 318 pages with color and black and white illustrations
$45.00
At least three dramas and numerous sub-plots are played out in the Letters from China written to his wife in Boston by ship captain and China trader Robert Bennet Forbes during his adventures aboard ship, and in Canton, Macao, and Hong Kong. The principal drama is the diplomatic and military chess game of the first Opium War between Britain and China, in which Forbes is a fortunate neutral. A second drama is the return to solvency and to what RBF refers to as "competency" by a man who left for China in 1838 with a load of debt. A third and subtle drama is the relationship between Rose and R. B. Forbes, a romance these letters express with humor, sweetness, teasing, family gossip, and a longing to be together again. A surprise in these lively letters is their contemporary quality. We are strangers to the people of the past, and we have a tendency to think that men and women who lived 150 years ago were somehow different from us and different in their expression of themselves - formal, careful, unemotional. These letters are proof that they were not. They are full of wit and spirit, feeling and playfulness, a source of emotional as well as historical information.
About the Author
Phyllis Forbes Kerr, great-great-granddaughter of Captain Robert Bennet Forbes, is a Wheelock graduate and former kindergarten and first grade teacher who holds a Masters degree from Lesley College as a reading specialist. She is the author and illustrator of several children's books, and, with her sister-in-law, a creator of greeting cards published under their company name of JoyPhyl Greetings. She lives in Cambridge, Massachusetts, with her husband and nearby son.
Ms. Kerr served on the Board of Trustees at Forbes House Museum from 1994-2011. She continues her affiliation with the Museum through work on special projects and initiatives. While serving on the Board of Trustees, Ms. Kerr created numerous exhibitions as Head of the Programs and Collections Committee, and worked tirelessly for the conservation of the Museum's permanent collection. In addition to writing Letters from China, The Canton-Boston Correspondence of Robert Bennet Forbes, 1838-40, Phyllis is the author of the children's book, Cabin Boy - Robert Bennet Forbes; A Voyage to China in the early 1800's.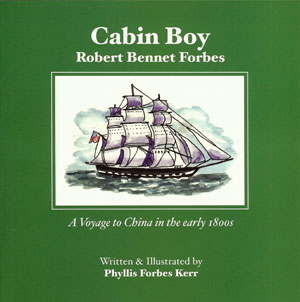 Cabin Boy—Robert Bennet Forbes
A Voyage to China in the Early 1800's
Written and Illustrated by Phyllis Forbes Kerr
Published in 2008
Soft cover, 40 pages, color illustrations
$18.00
Cabin Boy—Robert Bennet Forbes is the story of Forbes' first trip to China in 1817. He was just 13 when he sailed from Boston Harbor as a cabin boy on his uncle's ship, the Canton Packet. For the first month at sea Ben was miserable and had to conquer sea sickness, home sickness, and loneliness. Only then could he begin the responsibilities of his job and get to know his shipmates and officers. Through terrifying storms and paralyzing calms, and even death, after 5 ½ month at sea, the Canton Packet safely reached China. For three month, Ben lived in luxury in Canton, working as an aide to his older cousin. It was hard to return to the ship, but he did and made another exciting trip back to Boston. He was thrilled to be home with his family who marveled at how much he had grown. What they didn't see was how much wiser and more grown up Bennet had become. After just three months rest, he set sail as cabin boy once more bound for China.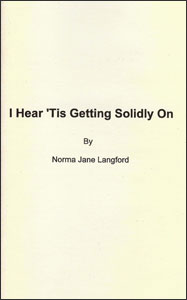 I Hear 'Tis Getting Solidly On
By Norma Jane Langford
Soft cover essay, 29 pages, published in 2007
$7.00
Scholars estimate that at the time of the Revolution, one-third of the American population favored the British, one-third favored the rebels, and one-third just wanted to be left alone.
"The great majority of American Loyalists… did not deny the legality of the British government's actions; but they doubted…its wisdom and its justice." [From The United Empire Loyalists, by William Stewart Wallace]
One of the interesting facets of the Tory Story is that while the British coveted the raw materials the colonies provided—lumber, mast trees, fur, fish—they couldn't quite believe that their compatriots across the sea might be able to manage anything more complicated than that.
So there was always a tension between those on this side of the Atlantic who remained loyal to the Crown and felt that the sacrifices they were making deserved acknowledgement and reward, and hardliners among the British who considered them primitive, second-class, uneducated, below-the-salt, unworthy of serious consideration.
I Hear "Tis Getting Solidly On is a compilation of facts and findings by Ms. Langford, which chronicles the fate of Loyalist families (many with ties to Milton, MA) who supported the English crown before, during and after the Siege of Boston.
About the Author
Norma Jane Langford is a local historian, researcher and educator based in Qunicy, MA. She is an educator in the OLLI program at University of Massachusetts Boston. Ms. Langford's research focuses on Tory/Royalist families in Greater Boston; she is the writer of many essays on the subject and frequent presenter of Tory (Loyalist) programs. She is the creator of the Tory Trail, a tour of Boston area homes once owned by Loyalist families.
.